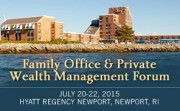 Aliso Viejo, CA, July 15, 2015 (Newswire.com) - 1031 CrowdFunding LLC announced today that its Founder and CEO, Edward Fernandez, and Chief Investment Officer, William Erickson, will sponsor, attend, and present at the Opal Financial Group's Family Office and Private Wealth Management Forum in Newport, RI, on July 20-22, 2015. 
Fernandez will participate on Tuesday's Crowdfunding panel, discussing the pros and cons, regulatory issues, and costs of crowdfunding. The discussion will be moderated by the General Counsel from The Strategic Group of Companies. Other panelists will include representatives from iFunding, Alpha Venture Partners/Pritzker Group Venture Capital, and Funding Circle.
"We're going to have a chance to present ourselves to family offices that have a lot of questions about crowdfunding," said 1031 CrowdFunding Founder and CEO, Edward Fernandez. "We are excited to be able to clear the air and bring clarity to the misinformation that is currently out there so that these individuals and groups can see the true potential of real estate crowdfunding."
This is Opal Financial Group's flagship event and one of the largest family office conferences in the world. The event boasts over 1000 attendees, with more than 500 representatives from family offices from North America and around the world. The event's keynote speakers are Walter O'Brien, CEO of Conviergeup.com, which is powered by Scopioncomputerservices.com, and the Executive Producer of the show Scorpion on CBS.  
For more information visit www.1031Crowdfunding.com or call (844) 533-1031.
About 1031 Crowdfunding LLC
1031 Crowdfunding provides a range of quality properties for investors seeking a 1031 exchange through a Delaware Statutory Trust. With a compliant online investment platform, investors research opportunities, make investments with ease, and receive monthly updates. 1031 Crowdfunding was founded by Edward Fernandez along with Alfred Pizzurro, Marcus Kurschat, William Erickson and Tim Barrett, aggregating 120 years of their combined experience in the securities and real estate markets.
Disclosure and Confidentiality Notice: This e-mail is the property of 1031 Crowdfunding, LLC ("1031CF") and Broker Bank Securities, Inc. ("BBSI"). 1031 CrowdFunding, LLC securities are offered through BBSI. BBSI is a Member FINRA, SIPC. This email, including attachments, may include non-public, proprietary, confidential or legally privileged information. If you are not an intended recipient or an authorized agent of an intended recipient, you are hereby notified that any dissemination, distribution or copying of the information contained in or transmitted with this e-mail is unauthorized and strictly prohibited. If you have received this email in error, please notify the sender by replying to this message and permanently delete this email, its attachments, and any copies of it, immediately. You should not retain, copy or use this e-mail or any attachment for any purpose, nor disclose all or any part of the contents to any other person. 1031CF and BBSI reserve the right to review and monitor the content of any and all e-mail messages sent to or from this e-mail address. E-mail messages sent to or from this e-mail address will be archived as required by SEC Rule 17a-4.
Share: